Political Opression
The persecution of an individual or group for political
reasons, in particular for the purpose of restricting or preventing
their ability to take part in the political life of a society.
Then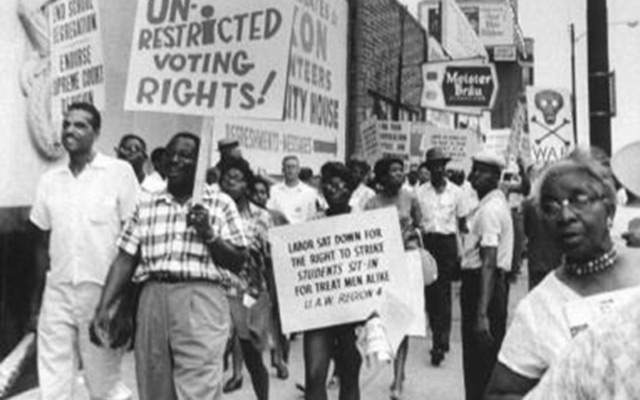 African-Americans demonstrate in favor of a strong civil right picket outside GOP convention hall, Chicago, Illinois, July 1960.
"The right of citizens of the United States to vote shall not be denied or abridged by the United States or by any state on account of race, color, or previous condition of servitude." - Fifteenth Amendment
But in order to prevent African-Americans from becoming a political threat, they were not allowed to vote. As a result, they had no say in what officials were elected. When discriminatory laws were approved by the Supreme Court, such as Williams v. Mississippi, in which African-Americans were barred from voting, these laws spread through the South quickly.
According to the Civil Rights Foundation, Given the green light, Southern states began to limit the voting right to those who owned property or could pass a literacy test, to those whose grandfathers had been able to vote, to those with 'good characters,' to those who paid poll taxes. In 1896, Louisiana had 130,334 registered black voters. Eight years later, only 1,342, one percent, could pass the state's new rules.
This left white voters in control, which was essential for them to maintain white political dominance. There were several ways that prevented African-Americans from being able to vote.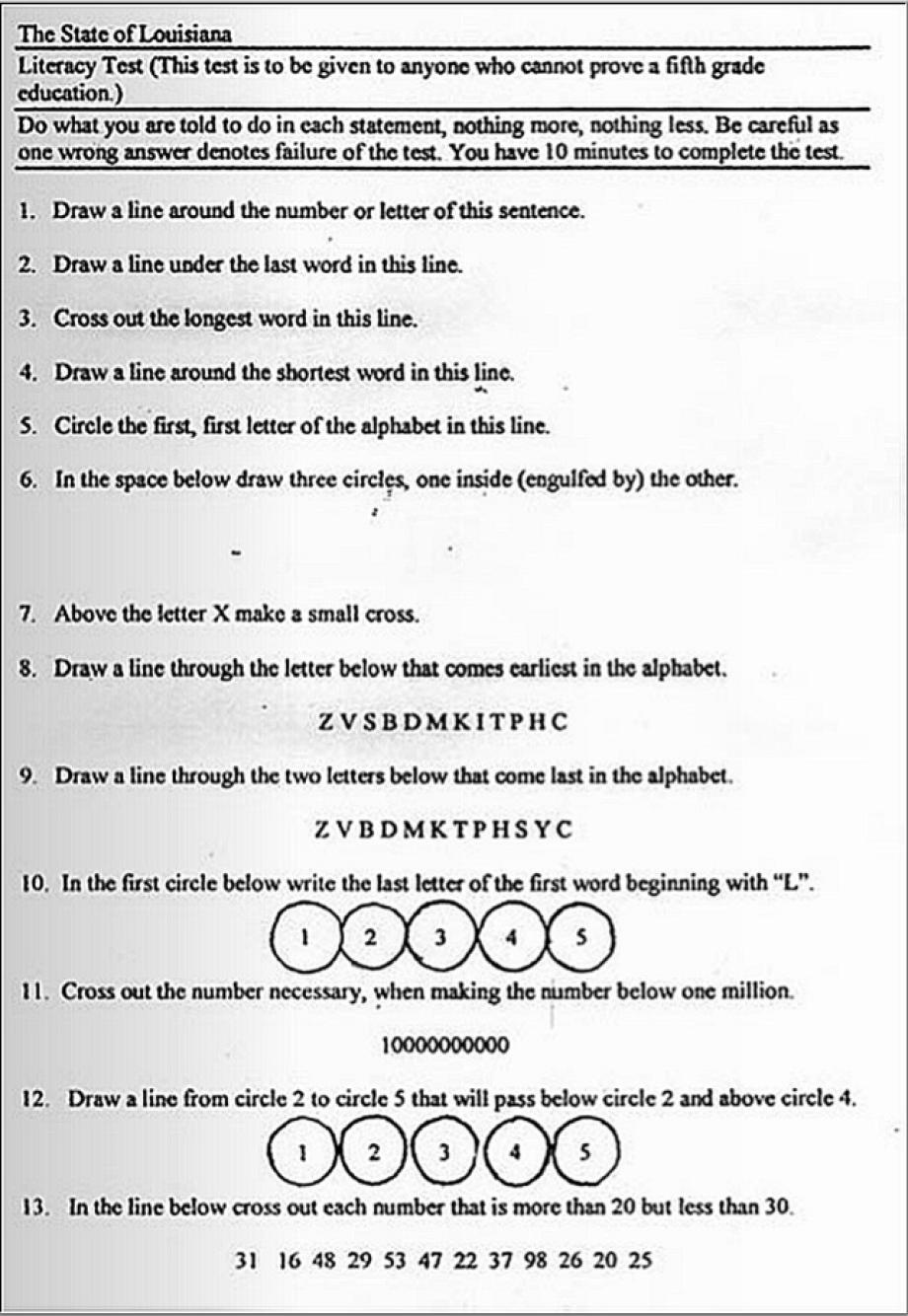 Part of Louisiana's Voter Literacy Test given to African-American's, 1964.
Former prisoners: Individuals who had gone to prison were not able to vote. During this time African-American's were often arrested falsely, or on minor offenses. Prisons provided cheap labor to keep the Southern states economy afloat.
Grandfather clause: People who could not read and owned no property were exempt from educational, property, or tax requirements for voting if their fathers or grandfathers had voted before 1867. Of course, practically no blacks could vote before 1867, just two years after slaves were freed.
Literacy test: Most illiterate people were not allowed to vote. A few were allowed if they could understand what was read to them. The literacy tests varied from state to state. But they often included trivia questions related to civic procedure and citizenship and sometimes even trick questions. Even if an African-American was able to pass the test, they still were not able to vote.
Poll taxes: In Southern states, people had to pay a tax in order to vote. Many people had low incomes and could not afford this tax. In some southern states poor southern whites could bypass the poll taxes due to the Grandfather clause.
Property: Many states only allowed property owners to vote. During this time many African-Americans did not own property, some states even restricted the type of property that African-Americans can own.
Purges: Some white officials removed names off of the official lists of registered voters.
Violence: African-American's who tried to vote were threatened, arrested, attacked, and some were even killed. Some of their families were harmed, their homes were burned down, and their jobs were threatened if they tried to vote.
"The tax collector shall keep a separate account of the amount of the poll taxes paid by persons, of each race in each township or separate school district." - Alabama, 1935